Publishing Your Website
Once you have taken your website live, publishing your changes can be done very easily.
Once you have made your content changes and previewed your work, simply select the "Publish" button located in action bar of the root page you are publishing.
Depending on the page, a window will pop up asking to verifying the changes you are publishing selected sites. The following options will appear: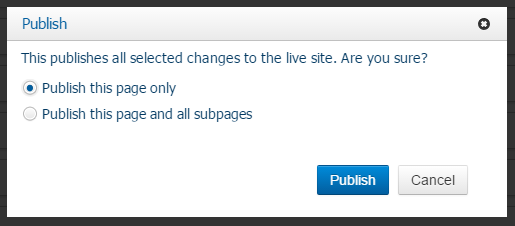 Publish this page only. Publish the subpage only
Publish this page and all subpages. Publish both the root page and all subpages within the page.

This publishes all selected changes to the live site. Are you sure? This option will pop up only when there is a root page and no subpages within it.
Select "Publish" and check your live site to confirm the changes.
NOTE: If you have not taken your site live yet, contact us for assistance.